If you're using your browser's reader mode, refresh the page while in reader mode to load all content.
webapp that forms partnerships between immigrant parents and school staff by preparing them for crucial conversations
struggles of immigrant parents
Parental involvement is a significant factor in the academic success and well‑being of a child. Parent‑school communication encourages parental involvement and helps establish strong working relationships between teachers and parents to support students. Immigrant parents and teachers of their children in the United States face unique obstacles in having effective communication, such as language barriers, cultural differences, racial bias, and assumptions about home conditions.
How might we help immigrant parents communicate with schools so that they can better support their children?
building foundational knowledge
Education and culture are huge topics which we couldn't possibly tackle without foundational knowledge. Before planning our firsthand research, we consulted the writings of relevant scholars and practitioners. We also directly conversed with a couple professors. Our research highlighted how crucial parental involvement was to their children's academic success and well‑being, and helped us identify the major barriers of language, culture, and bias that inhibited support for immigrant students.
literature review
goal
Gain a basic understanding of the problem space.
action
Read a couple dozen scholarly writings about the intersection of education, immigration, and culture in the United States and Canada.
insights
Language, culture, and bias are barriers to supporting children of immigrants.
expert interviews
goal
Confirm that our understanding of the problem space from our literature review is accurate.
action
Interviewed education professors with a research focus on culture about core issues and possible solutions for immigrant students, their families, and their schools.
insights
Teachers sometimes make assumptions about how parents can or should support their children. Engagement can correct those assumptions.
competitive assessment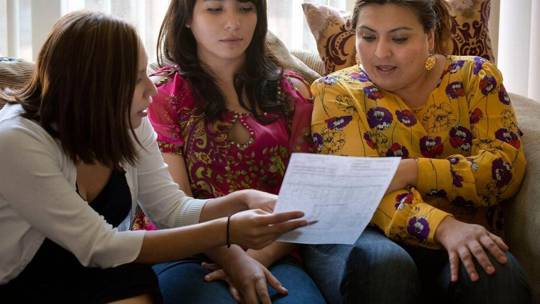 goal
Identify the strengths and weaknesses of an existing solution.
action
Researched and evaluated the Parent‑Teacher Home Visits program.
insights
Relationships between parents and schools help both parties support students. Parent‑Teacher Home Visits' top‑down strategy has a high startup cost.
engaging with people
Once we had foundational knowledge of the problem space, we needed to observe how our conceptual understanding manifested in real situations. We coordinated with leaders of local communities and schools to connect with immigrant parents and school staff. They explained their frustrations and delights in interacting with people and technology in the school system. Our conversations revealed that most people desired effective partnerships, but were held back by difficulty in coordinating schedules and aligning priorities.
artifact inquiry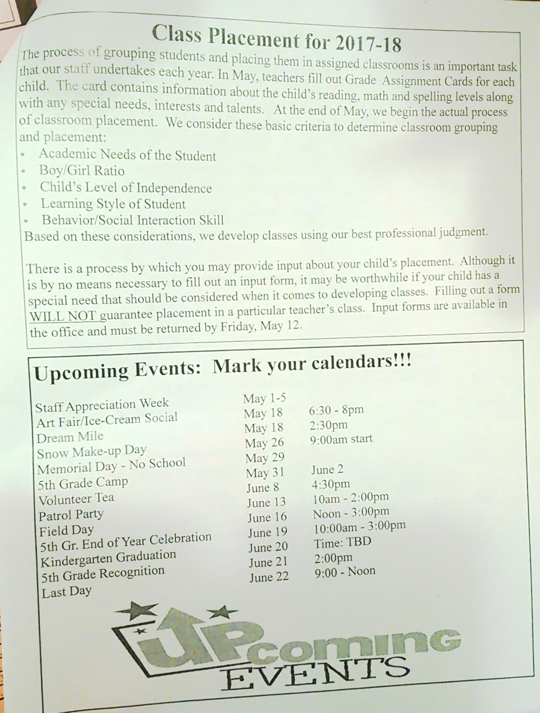 goal
Identify existing channels of communication. Gather concrete examples of communications that built or broke relationships.
action
Reviewed physical and digital communications alongside individual parents and staff.
insights
Parents and staff both wish they could do better communication, but don't feel like they have the resources or ability to do so.
surveys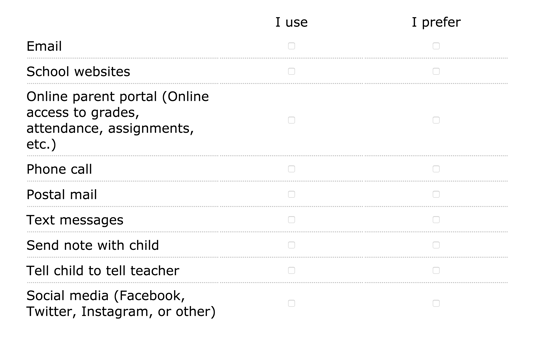 goal
Identify patterns in communication channels and preferences.
action
Posted surveys in simple English to immigrant, parental, and educational communities on Reddit and Facebook. Translations were offered where appropriate.
insights
Parents and teachers largely use email and phone calls, preferring email. Websites, texting, and social media have mixed reviews and usage.
online discussions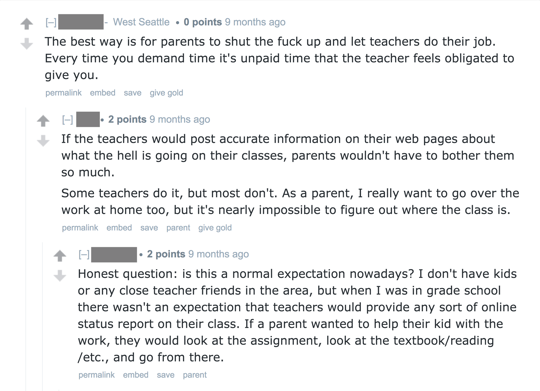 action
Read discussion threads on our Reddit survey posts.
insights
We didn't put too much weight into what we read, but the comments did demonstrate that immigration and parent‑teacher communication are contentious topics. Some teachers also shared methods for coping with communication responsibilities.
synthesizing research data
As mentioned before, education and culture are huge topics. There was no way we could address every bit of data we had collected. To facilitate in determining appropriate focus and scope for our project, we did a lot of affinity diagramming to synthesize our data into key insights. These insights informed design principles for our solution.
key insights
Parents and teachers have limited time to dedicate to effective communication
Constructive communication requires sensitivity to both culture and circumstance
Current infrastructure doesn't adequately support communication between immigrant parents and teachers
Inability to prioritize information leads to simultaneous information overload and information blindness
Teamwork between teachers and parents requires mutual trust and respect
A PDF of our report is available below. Text by the team, visual design by Alice.
generating ideas
Now that we understood the problem space and identified markers of a good solution, we could start thinking up how we could foster change. We did about a dozen ideation activities, some with the help of colleagues outside the team.
inspirational activities
network mapping
goal
Identify possible points of intervention.
action
Collaboratively diagrammed people and factors that affected their relationships and communication.
result
The visual diagram helped us think about parent‑teacher relationships as part of a bigger system.
scenarios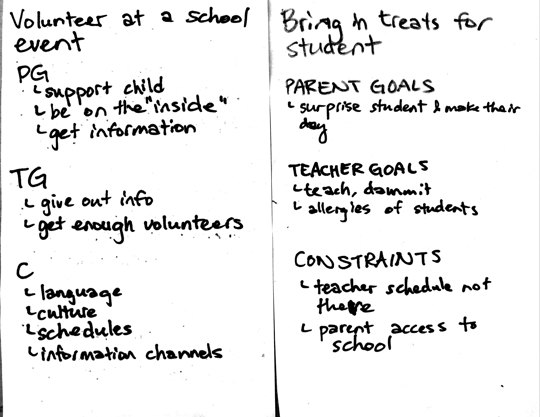 goal
Compile a list of possible scenarios solutions could address.
action
Thought of possible scenarios that parents and staff might face. Listed people's goals and constraints for each scenario.
result
The scenarios were not only good for thinking of ideas, but also served as test cases for our prototypes.
bad ideas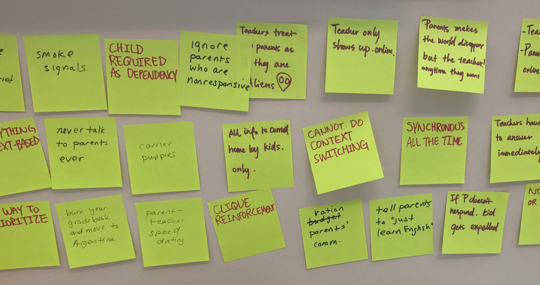 goal
Compile a list of pitfalls we wanted to avoid. Flush out poor ideas from our minds by externalizing them.
action
Listed ideas that we knew were bad either from our research or common sense.
result
Any time we veered too close to a horrible idea, someone could point to it on the wall and we'd quickly reconsider.
provocation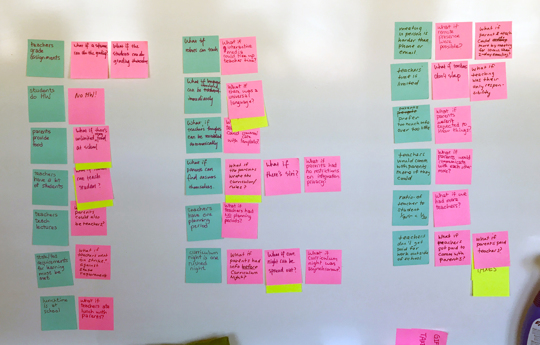 goal
Question our assumptions about constraints.
action
Listed aspects of the problem space, and generated 'What if?' questions in response.
result
The questions helped shift our minds to think about what might be possible rather than what was currently happening.
dream matching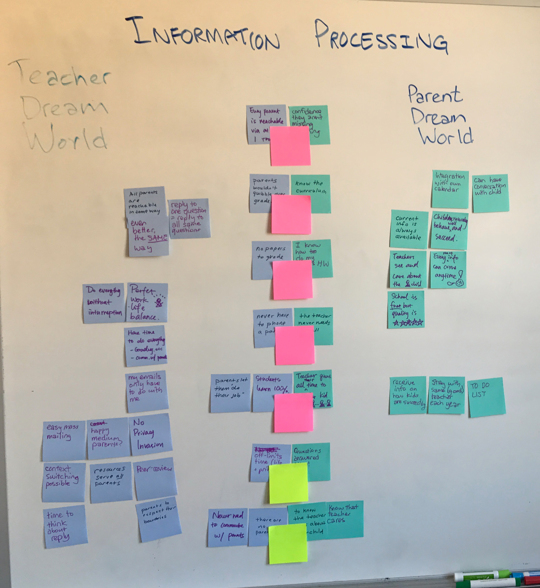 goal
Find overlap between parent and teacher desires.
action
Listed desires of parents and teachers we heard in interviews. Paired related desires and generated ideas from them.
result
Identified possible win‑win situations.
idea generation and refinement
pass the buck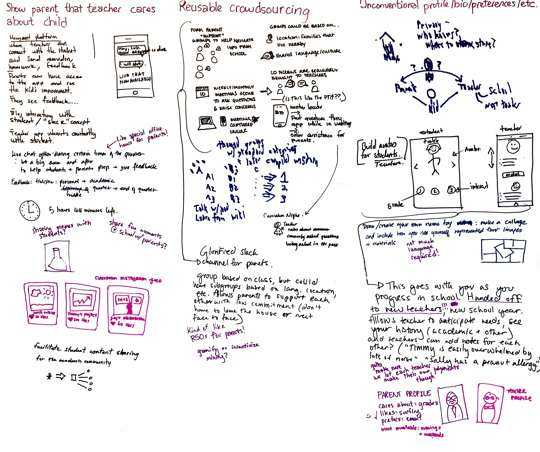 goal
Generate ideas for solutions.
action
External colleagues drew and wrote on sheets with unique prompts, swapping papers to build on others' ideas every couple minutes.
result
We not only got many ideas, but also could see which ideas excited our colleagues.
artifact analysis
goal
Generate ideas for solutions.
action
Looked at communication artifacts from research participants and thought of ways to improve them.
result
Thinking of ways to change the workflow of parents and teachers was much easier when looking at their current output.
dot labeling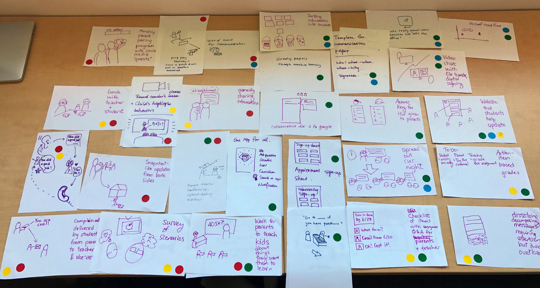 goal
Identify common themes in our ideas.
action
We categorized ideas based on how they approached the problem, perceived viability, and general interestingness.
result
We realized most ideas were either pragmatic solutions focused on information processing, or interesting concepts focused on building relationships.
tombstones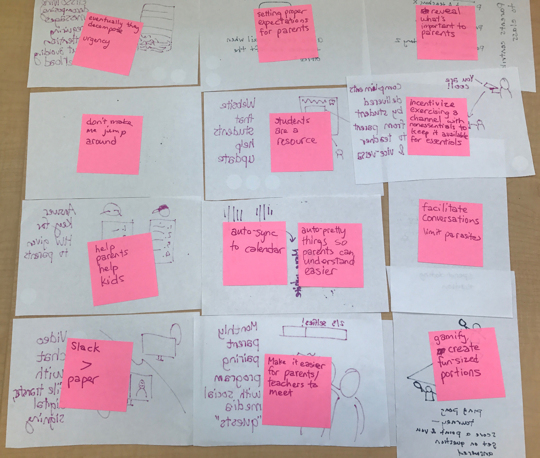 goal
Easily let go of ideas.
action
We eliminated ideas that were good but not great by writing down a 'lesson learned' from them.
result
We were able to quickly eliminate ideas without feeling like the promising parts of them were wasted.
insights & principles check
goal
Identify the ideas that best responded to our research.
action
We evaluated ideas by seeing how they responded to the insights and principles from our research.
result
This helped us notice holes in concepts that had to be addressed if we were to move forward with them.
fleshing out promising concepts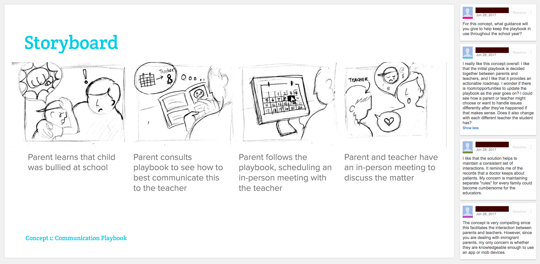 We narrowed down our ideas to three promising concepts, and presented them through storyboards and system diagrams to external colleagues. They helped us begin to identify and address possible roadblocks that each solution might have to deal with. We eventually decided to pursue the concept of a negotiable communication playbook which helps parents navigate a school system. This direction seemed to best leverage our research about culture.
Slides describing our initial concepts are available below. Diagrams by Alice. Storyboards by Mo. Text and drawings by me.
developing a solution
The concept of a negotiable communication playbook sounded nice, but there were many uncertainties about how it would work:
How should negotiations be mediated?
What kind of information architecture can support describing every communication protocol?
Where should the playbook's intervention begin and end?
We evaluated prototypes alongside immigrant parents and school staff, hoping to create a structured process for effective communication. Our prototypes revealed that we held an overly pessimistic view of the abilities of school staff and resources to address the issues of immigrant parents. Instead of trying to micromanage conversations, we shifted our focus to getting them started off on the right foot.
foundational exploration
negotiation game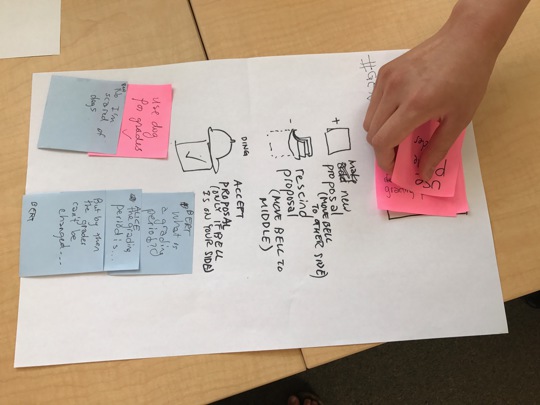 goal
Identify the possible actions and states of a negotiation.
action
Imagined that negotiation was a turn‑based game and attempted to write the rules and play a few rounds.
result
Built state diagrams and decision trees that allowed us to better describe and intervene in negotiations.
protocol compilation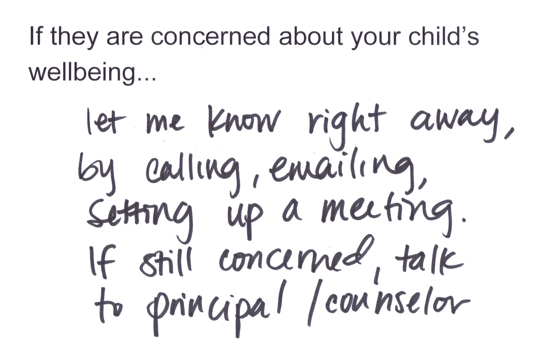 goal
Compile data that needs to be supported by the information architecture for communication protocols.
action
Asked immigrant parents and school staff to write courses of action for various scenarios.
insights
People's expectations for communication protocols include specifying channel, people, content, timing, and actions.
negotiation chat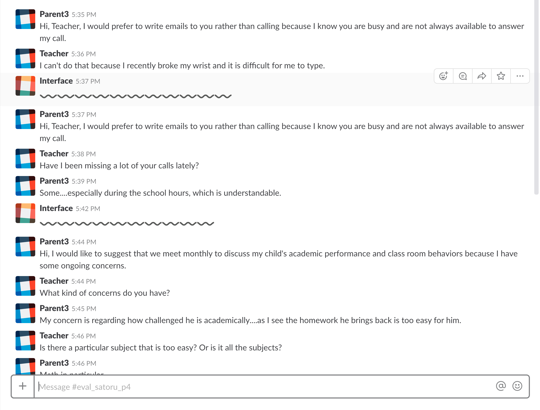 goal
Identify what makes a negotiation feel good or bad.
action
Role‑played various negotiation scenarios with parents and teachers using a chat interface.
insights
Explanations make disagreements or rejections easier to swallow. High amounts of effort/investment results in high payoff or high fallout.
prototypes
protocol form
goal
Identify deficiences in information architecture. Identify patterns in protocols that might help us simplify the process of creating one.
action
Had immigrant parents and school staff create communication protocols for scenarios using a form.
insights
Users will treat examples as good‑enough options. Users have pretty consistent preferences for communication based on urgency and importance.
negotiation aid
goal
Evaluate effectiveness of methods for guiding negotiations toward positive interactions.
action
Role‑played negotiations with parents and teachers using a hodge‑podge digital application.
insights
Non‑interactive aids are ineffective. Seeing the other party's goals is nice. Framing ideas as proposals feels too aggressive for some cultures.
interactive wireframe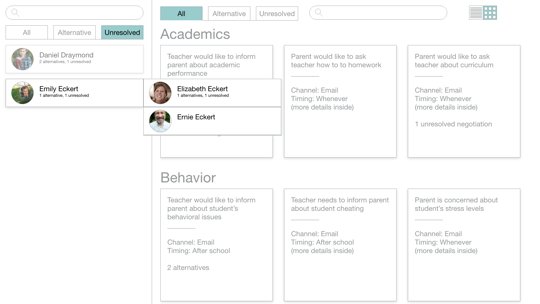 goal
Identify issues with interface for managing playbooks.
action
Observed school staff attempting to complete tasks using the interactive wireframe application.
insights
Managing playbooks for every student/parent seems overwhelming. Process of negotiation feels slow and redundant with existing methods.
conversation guide packet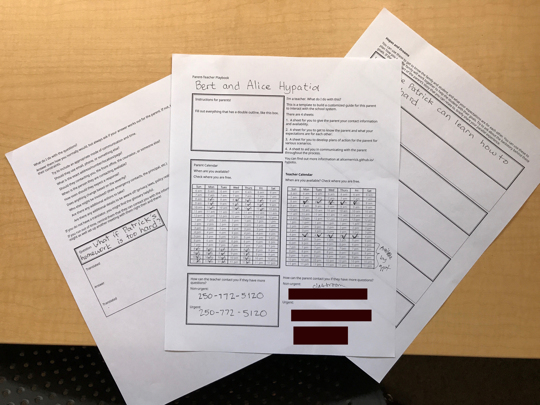 goal
Evaluate if a paper packet with content to guide a conversation is effective.
action
Role‑played parent‑teacher conferences with teachers using the packet as a guide.
insights
Contents of packet were effective and useful. Teachers desired integrating digital technology to aid in recording and sharing information.
getting the conversation started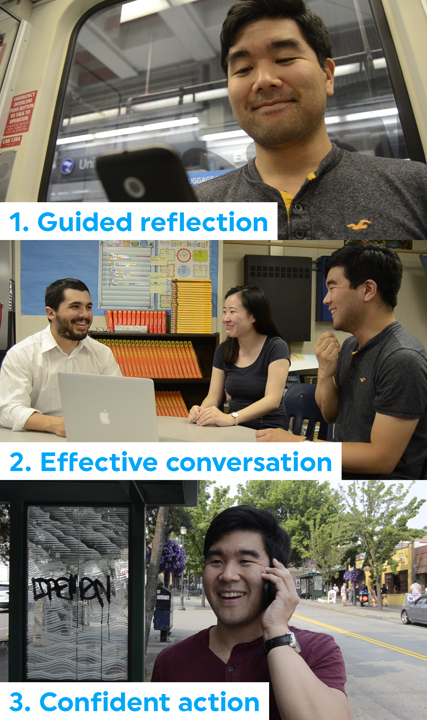 Our focus on starting conversations led us to design Springboard. Springboard is a webapp that prepares immigrant parents for effective conversations with school staff, and assists in sustaining plans of action the conversations produce.
Before meeting with school staff, Springboard prompts parents to identify their goals, questions, and availability. These reveal the parent's unique needs, allowing school staff to develop plans of action alongside the parent in response. Springboard provides a digital platform for parents and school staff to record and follow these plans of action. In many cases, as the parent builds familiarity with the school system and staff, Springboard becomes unneeded.
features
goals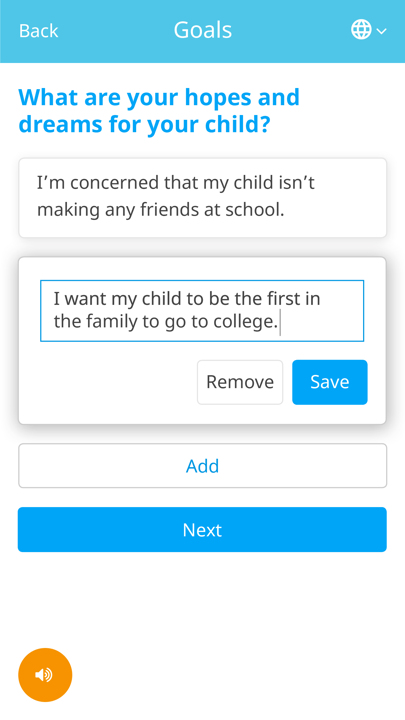 Parents can express their cultural and personal values to the teacher by stating their goals for their children. This allows school staff to understand the parent's unique needs and provide appropriate resources.
questions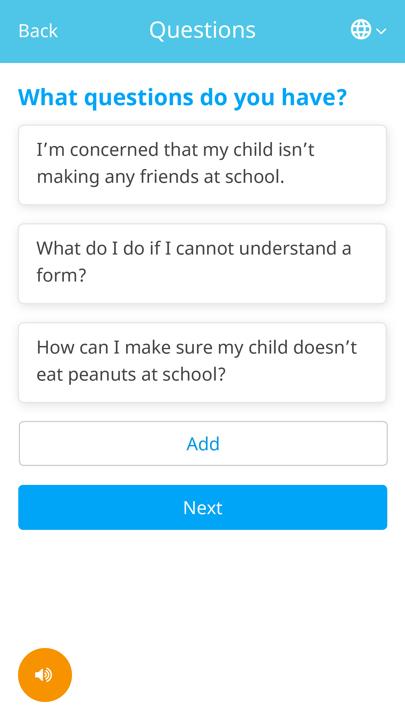 Making space for parents to ask questions gives school staff an opportunity to clear misconceptions and define unfamiliar jargon. This builds the parent's confidence to navigate the school system.
availability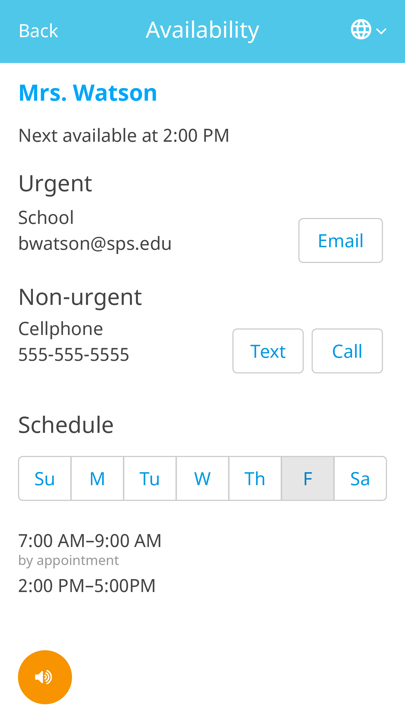 To sustain the partnership, parents and school staff share their availability for communication. By seeing one another's constraints, parents and school staff can form realistic expectations for the other party's support of the student.
multilingual support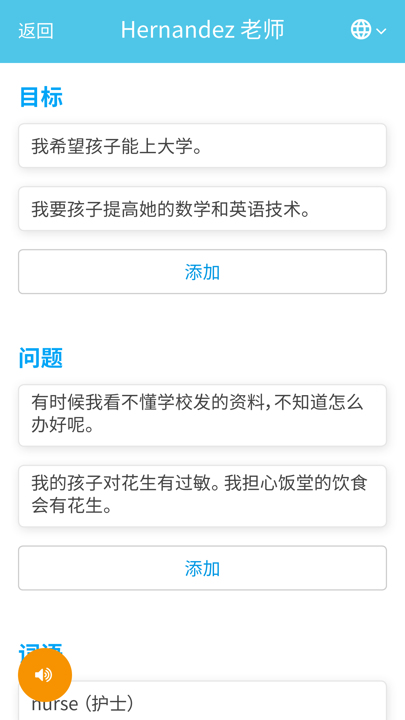 Users can comfortably express themselves in any language. Interpreters can record results of conversations in multiple languages so that all parties have a reference. All typography uses Google's Noto Fonts for global language compatibility.
text-to-speech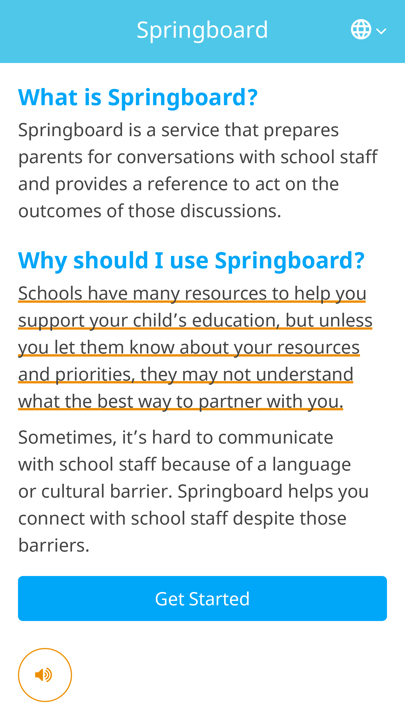 Some populations, such as some East African mothers in Seattle, may be able to speak their language, but not easily read it. A text‑to‑speech button on every screen allows users to select any content or interface element and have it read aloud.
suggestions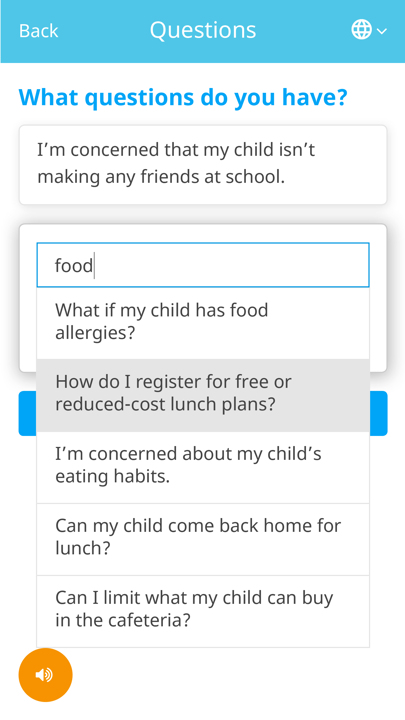 Parents often are unaware of all the resources available for them at their school, such as financial or emotional support. The webapp suggests questions and goals that parents may not have considered bringing up.
glossary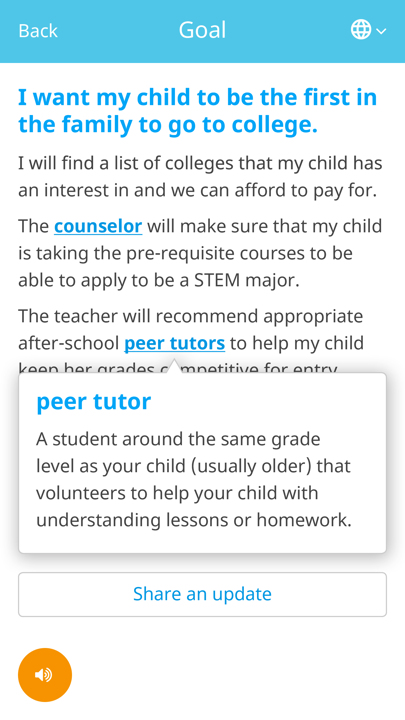 Every school has their own special names for people, tools, and organizations. The webapp identifies key terms in inputs and encourages school staff to further define what they are and how they might be useful.
deliverables
design specifications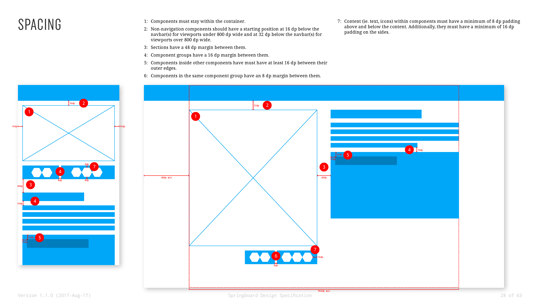 We created thorough, developer-friendly design specifications that included:
a service blueprint
information architecture
hero flows
interface components
visual language
editorial style
authentication methods
poster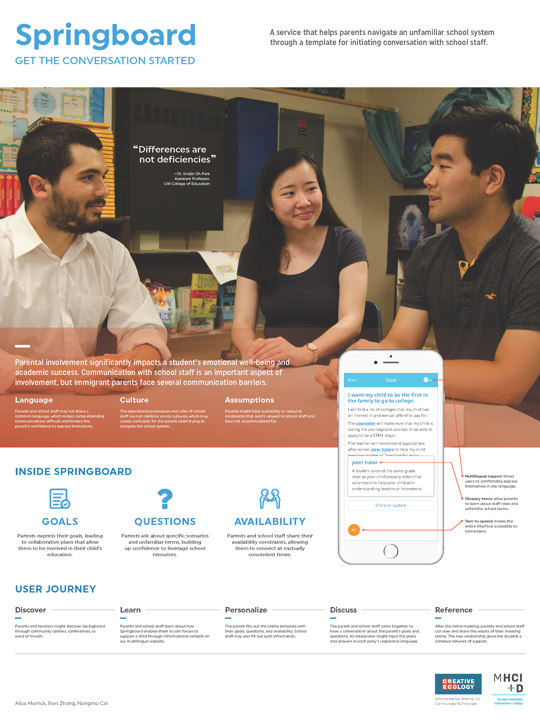 We made a poster to describe our solution.
user journey video
We made a video to illustrate the overall process of Springboard.
high-fidelity prototype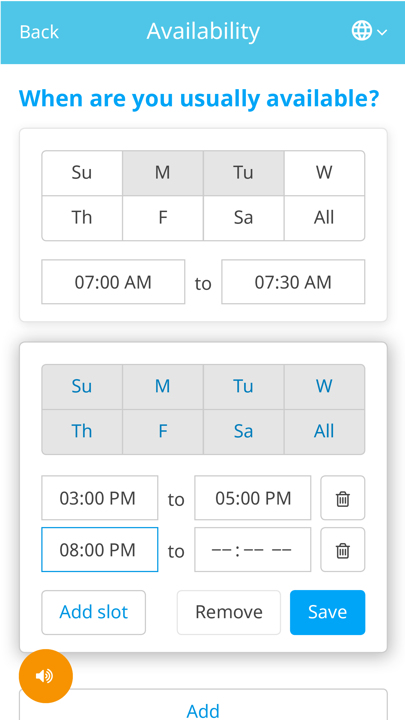 We created a prototype with a functional CRUD interface and text‑to‑speech button.
reflection
This project was very prone to scope creep. Public education is a gigantic machine that always could use massive overhaul. We begrudgingly refrained from redesigning how schools operated, knowing from our research that many policies would stand in the way of adoption. If we had 5 years, we might have been able to iterate on an entire communication system. Since we only had 5 months, we opted to just make sure that everyone could participate in the system in the first place.